Mosquito Facts
There are more than 3,500 species of mosquitoes found throughout the world? Mosquitoes carry infectious diseases that infect millions of people every year? Among the diseases mosquitoes carry are: West Nile Virus, Heartworm and Malaria.
West Nile Virus
from CDC
Texas is not immune to the diseases that mosquitoes carry, in fact, as of December 11, 2012, 48 states had reported West Nile virus infections in people, birds, or mosquitoes. A total of 5,387 cases of West Nile virus disease in people, including 243 deaths, have been reported to CDC. Of these, 2,734 (51%) were classified as neuroinvasive disease (such as meningitis or encephalitis) and 2,653 (49%) were classified as non-neuroinvasive disease. The 5,387 cases reported in 2012 was the highest number of West Nile virus disease cases reported to CDC through the second week in December since 2003. Eighty percent of the cases have been reported from 13 states (Texas, California, Louisiana, Illinois, Mississippi, South Dakota, Michigan, Oklahoma, Nebraska, Colorado, Arizona, Ohio, and New York) and a third of all cases have been reported from Texas.
How Heartworm Happens
American Heart Association

First, adult female heartworms release their young, called microfilaria, into an animal's bloodstream. Then, mosquitoes become infected with microfilariae while taking blood meal from the infected animal. During the next 10 to 14 days, the microfilariae mature to the infective larval stage within the mosquito. After that, the mosquito bites another dog, cat or other susceptible animal, and the infective larvae enter through the bite wound. It then takes a little over 6 months for the infective larvae to mature into adult worms. In dogs, the worms may live for up to 7 years. Microfilariae cannot mature into adult heartworms without first passing through a mosquito.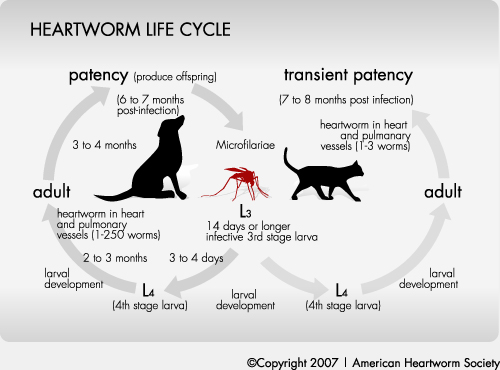 Malaria
Wiki
Malaria is a mosquito-borne infectious disease of humans and other animals caused by protists (a type of microorganism) of the genus Plasmodium. It begins with a bite from an infected female mosquito (Anopheles Mosquito), which introduces the protists via its saliva into the circulatory system, and ultimately to the liver where they mature and reproduce. The disease causes symptoms that typically include fever and headache, which in severe cases can progress to coma or death. Malaria is widespread in tropical and subtropical regions in a broad band around the equator, including much of Sub-Saharan Africa, Asia, and the Americas.
Don't worry, Mist On Your Own is here to help. We provide Do-It-Yourself mosquito misting systems for mosquito extermination and to alleviate not only the annoyance of mosquitoes, but to prevent the spread of their dreaded diseases.